These services are studies performed on a specific piece of Ericson equipment, considering how it is connected and used at your site. Ericson power studies can be ordered as part of a custom power distribution equipment order.
Arc flash study
Keeping workers safe means knowing which protective equipment is needed during equipment maintenance.
Short circuit study
Calculating the fault current available during a short circuit will help determine if your protective equipment is sized appropriately for your application.
Protective device coordination study
Understanding which fuses or breakers will trip during a fault will keep more of your service up and running.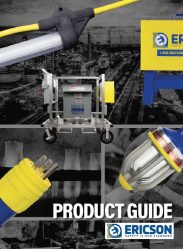 Product Guide
Access our product guide, with essential information on everything from portable power to wiring devices.